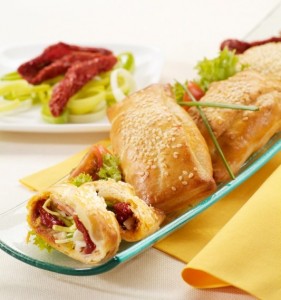 Ingredients:
Medium crepes – 8 pieces
Spanish onions diced – 2
Olive oil – 2 tablespoons
Smoked duck breast, thinly sliced – 250g
Coeur de Lion Brie cheese – 250g
Large eggs, lightly beaten (for coating) – 2
Fine dry bread crumbs (for coating) – 1 cup
Cooking oil for frying
Black pepper to taste
Garnishing: Choice of salad greens
Method:
1. In a medium pan sauté the diced onions with olive oil for about 15-20 minutes, until golden brown. Season to taste with some black pepper.
2. Place a tablespoon fried onions, slices of smoked duck breast and Brie cheese over the bottom part of each crepe. Fold in the sides and roll up each crepe like an envelope to enclose the filling; seal the edges with a little of the beaten eggs.
3. Put the remaining beaten eggs and bread crumbs in 2 separate pie plates. Dip the stuffed crepes into the egg and then roll in the bread crumbs, press lightly to help the crumbs adhere.
4. In a medium skillet, heat 1 inch of cooking oil to 170°C. Add the crepe envelopes in a single layer and fry over high heat, turning once, until golden and crispy, fry about 3-4 minutes. Transfer the stuffed crepe envelopes to paper towels to drain, and then serve right away with desired salad greens.
* If you love the special "wok hei" which seems only existent in hawker or restaurant dishes, then this is another reason why you would love TURBO hobs. Equipped with wok burner of upto 5.2kW flame, TURBO hob is able to produce the largest flame in the market to give you cooking the special dishes infused with "wok-hei" that you can only enjoy at hawker stalls and restaurants.
用料
中等大小可丽饼 – 8 片
剁碎西班牙大葱 – 2 个
橄榄油 – 2 汤匙
烟熏鸭胸,切成薄片 – 250克
布里干酪 (Coeur de Lion Brie cheese) – 250克
大鸡蛋,拌匀(涂层用) – 2 颗
细面包糠(涂层用) – 1 杯
食油 (煎炸用)
黑胡椒 – 适量
配菜: 随选沙拉菜
做法
1. 在中型平底锅中倒入橄榄油翻炒葱头丁约15-20分钟直至金黄色。加入黑胡椒调味。
2. 将一汤匙炒好的葱头、数片烟熏鸭胸和布里干酪(Coeur de Lion Brie cheese)铺在每片可丽饼的一端。将可丽饼的两侧折起再翻卷起来把馅料封住,然后用蛋浆将边缘封住。
3. 将剩余的蛋浆和面包糠分别倒入2个馅饼盘内。把包好的可丽饼沾上蛋浆后再挂上面包糠,轻轻按压一下,让面包糠更附着。
4. 在中型长柄锅中倒入1寸食油并加热至170摄氏度。将包好的可丽饼放入锅中用高温煎至两面金黄香脆,约3-4分钟即可。用厨房纸巾去除煎好的可丽饼的多余油份,配上随选沙拉菜一起上桌。