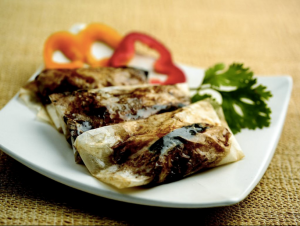 Ingredients
Chicken thigh meat, deboned (cut into slices) – 1 kg
Prepare 20 pieces greaseproof paper (18cm square)
Chicken Marinade
Kratiem (garlic), minced – 5 cloves
Minced coriander roots – 3 tbsp
Prik thai (black pepper) – 1 tbsp
Honey – 4 tbsp (to taste)
Pandan Coconut oil – 3 tbsp
Dancing Chef Thai Seafood sauce – 1 packet
Dancing Chef Red Curry paste – 1 ½ tbsp
Water – 4 tbsp
Method
1. Marinate chicken slices with the above chicken marinade for about 3-4 hours in the fridge.
2. Wrap the well-seasoned chicken pieces with grease proof paper into an envelope parcel. Brush evenly with some cooking oil. Pre-heat Blanc shallow fry pan, seal and brown chicken parcels thoroughly with some oil.
3. Transfer the wrapped sealed parcels into the Turbo Microwave cum Oven to cook for further 7 to 8 minutes. (Timing is for each batch weighs about 400g)
4. Serve and enjoy wrapped parcel Volcano Choo Chee Chicken while hot.
材料
鸡腿肉,去骨 (切片) – 1 公斤
准备20张防油纸(18cm方形)
鸡肉腌酱
蒜头,剁碎 – 5 瓣
香菜根,剁碎 – 3 汤匙
黑胡椒 – 1 汤匙
蜜糖 – 4 汤匙 (适味)
香兰椰油 – 3 汤匙
佳味泰式海鲜酱 – 1 包
佳味红咖喱酱 – 1 ½ 汤匙
水 – 4 汤匙
做法
1. 用鸡肉腌酱腌切片鸡肉,放进冰箱约3-4小时。
2. 用防油纸把腌好的鸡肉包起成信封状。均匀地涂上食用油。预热Blanc浅煎锅, 把鸡肉包完全用油封起。
3. 把纸包鸡放进Turbo微波炉烤箱再煮7到8分钟。 (时间按鸡肉重量约 400克算).
4. 趁热享用火山纸包鸡。